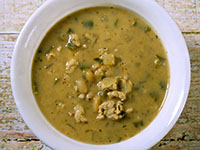 Ingredients
1 white onion diced
2 Anaheim chilies seeded and diced
2 poblano chilies seeded and diced
2 teaspoons minced garlic
1 tablespoon olive oil
1 pound ground turkey
1 teaspoon jalapeño powder (original recipe calls for chili powder)
1 teaspoon ground cumin
1 teaspoon dried oregano
½ teaspoon ground coriander
1 tablespoon chopped fresh cilantro optional
¼ teaspoon cayenne pepper
¼ teaspoon ground black pepper
½ teaspoon kosher salt
½ cup all-purpose flour
3 cups low-sodium chicken broth
2 15.5-ounce cans navy beans drained; divided
¼ cup heavy cream
juice from ½ lime
shredded Monterey Jack cheese for topping
Instructions
Brown turkey in a large pot with olive oil.
Add garlic, chili powder, cumin, oregano, coriander, and cayenne pepper, and cook for 1 minute.
Stir in flour to coat turkey.
Stir in broth and bring to simmer.
Puree half of the beans in food processor until smooth. Add to turkey with chilies and onions.
Simmer the chili until it begins to thicken, about 30 minutes.
Stir in remaining beans, cream, lime juice. Heat thoroughly.
Top servings with cheese.