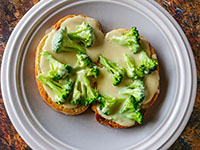 This was always a favorite, one of the most comforting of Mom's specialties. We would even have the Stouffer's frozen version on occasion, but it's best homemade. It's particularly good served over homemade bread, and Rich and I like it with broccoli, too.
Ingredients
3 tablespoons butter
3 tablespoons flour
¼ teaspoon salt
¼ teaspoon black pepper
¼ teaspoon Coleman's dry mustard
¼ teaspoon Worcestershire sauce
dash cayenne to taste
1 cup milk
½ cup beer
8 ounces extra sharp Cheddar shredded
Instructions
Melt butter, stir in flour and seasonings (except Worcestershire sauce—mix this with the beer). Cook a few minutes, then stir in milk.
Heat to boiling, boil and stir one minute. Gradually add beer.
Stir in cheese a little at a time over low heat until all is melted. Serve hot over toast or broccoli.