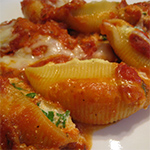 Ingredients
1 12-ounce package jumbo shells uncooked
32 ounces ricotta cheese
8 ounces mozzarella cheese shredded
3 ounces Muenster cheese shredded
½ cup grated Parmesan or pecorino cheese
2 eggs
3 tablespoons chopped fresh parsley
½ teaspoon salt
rounded ¼ teaspoon finely ground black pepper
3 cups (about 26 ounces) pasta sauce
Instructions
Preheat oven to 375°F. Cook pasta for 10 minutes, then drain.
Meanwhile, in medium bowl, stir together cheeses, eggs, parsley, salt, and pepper. Measure about 8.75 ounces of cheese to fill the shells, and reserve the rest for the top.
In 13 x 9 x 2 inch baking dish, spread ½ cup pasta sauce.
Fill each cooked shell with about 1½ level tablespoons cheese mixture. We used our purple 1-tablespoon cookie scoop to scoop rounded balls of the cheese mixture (do not level off), which worked very well to fill the shells.
Layer one-half filled shells in baking dish. Spread half of the remaining sauce over the shells.
Layer remaining filled shells over sauce. Spread remaining sauce over shells, and sprinkle with reserved cheese.
We baked the shells for 35 minutes on rack 2, uncovered.
Notes
26 Nov. 2022: We made the shells according to the Ronzoni package directions, with the adjustments described above. Next time we may try our larger glass baking dish so we can make just one layer of shells, and we may bake it a few minutes longer.