Spicy Pork Tostadas (Tinga)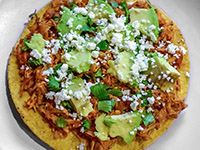 Ingredients
Tinga
2 pounds boneless pork butt trimmed of excess fat and cut into 1-inch pieces
2 medium onions one quartered and one chopped fine
5 medium garlic cloves 3 peeled and smashed and 2 minced or pressed through garlic press
4 sprigs fresh thyme
table salt
2 bay leaves
2 tablespoons olive oil
½ teaspoon dried Mexican oregano
1 14.5-ounce can tomato sauce
1 tablespoon ground chipotle powder
Tostadas
prepared tostada shells or brush corn tortillas with olive oil and bake about 8 minutes at 450°F-475°F
queso fresco or feta cheese
fresh cilantro chopped
sour cream
diced avocado
lime wedges
Instructions
Cook pork, quartered onion, smashed garlic cloves, thyme, 1 teaspoon salt, bay leaves, and water to cover in slow cooker for several hours until pork is tender. Shred pork.
Heat olive oil in skillet over medium-high heat. Add shredded pork, chopped onion, and oregano; cook, stirring often, until pork is well-browned and crisp, 7 to 10 minutes. Add minced garlic and cook until fragrant, about 30 seconds.
Stir in tomato sauce, chipotle powder, and reserved pork cooking liquid; simmer until almost all liquid has evaporated, 5 to 7 minutes. Season with salt to taste.
Serve on tostada shells with cheese, avocado pieces, cilantro and lime.