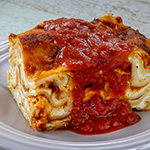 Ingredients
11 lasagna noodles
1½ 15-ounce containers ricotta
1 egg
1 tablespoon parsley flakes
8 ounces mozzarella shredded
4 ounces muenster shredded
grated Pecorino Romano
24 ounce jar Ragu traditional sauce
Instructions
Cook lasagna noodles for 6 minutes. Use 7-quart pot.
Mix ricotta, parsley, egg, 1 tablespoon of grated romano, and a pinch of finely-ground black pepper in a large bowl.
In a small bowl, mix shredded mozzarella and muenster with just enough romano to keep them from sticking together.
Layer in 8"x8" baking dish. Makes 4 layers (ricotta mixture (180 grams per layer), mozzarella mixture (2.4 ounces per layer), sauce) plus one top layer covered with sauce and mozzarella mixture. Allow 45 minutes to cook noodles and assemble.
Bake at 375°F for 50-55 minutes, covering with foil for the last 20 minutes or so.