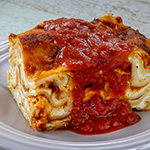 This recipe was developed for an 8"x8"x3" baking pan. (This is the pan we use: Fat Daddio's ProSeries 8"x8"x3" Square Anodized Aluminum Straight Sided Cake Pan.)
Ingredients
10 dry lasagna noodles 2 per layer, cut off ⅓ from each piece
2 15-ounce containers whole milk ricotta cheese
1 extra-large egg
2-3 tablespoons fresh Italian parsley finely chopped
8 ounces mozzarella cheese shredded
4 ounces Muenster cheese shredded
Pecorino Romano cheese grated; 1 tablespoon for ricotta mixture, some for topping
24-ounce jar Ragu Traditional Spaghetti Sauce
Instructions
Parboil lasagna noodles for 6 minutes (about ½ normal cooking time). Use the large 7-quart pot.
Mix ricotta, parsley, egg, 1 tablespoon of grated Romano, and a pinch of finely-ground black pepper in a large bowl.
In a small bowl, mix shredded mozzarella and Muenster with just enough Romano to keep them from sticking together.
Layer into a 8"x8"x3" baking dish. Makes 4 layers (ricotta mixture [7.5-8 ounces per layer], mozzarella mixture [2.4 ounces per layer], Ragu sauce) plus one top layer covered with Ragu sauce and mozzarella mixture. Allow 45 minutes to cook noodles and to assemble lasagna.
Bake at 375°F for 50-55 minutes, covering with foil for the last 20 minutes or so.
Notes
June 17, 2022: We wanted to make a sausage version of this lasagna, and decided to use a larger pan because of the larger volume of ingredients (and the last time we made it, the lasagna came all the way to the top of the 8"x8"x3" pan). Today we used this 8"x12"x3" pan. We drained two 15-ounce containers of ricotta through cheesecloth and a strainer over a bowl to remove some of the liquid. We tried three eggs in the ricotta mixture this time, and about 4 tablepoons of fresh parsley. Each ricotta layer was about 8.5 ounces. Rich browned one pound of ground Jessup-style sausage and added it to 24 ounces of sauce. This gave us 8.85 ounces of sauce per layer. We also used a mix of mozzarella, Muenster, and Provel pizza cheese for the grated cheese layer (mixed with a bit of grated Pecorino). Each grated cheese layer (there are 5, including the topmost layer) was about 2.75 ounces. We also needed more noodles: best to make 18 noodles so there are enough extras to cut pieces to fill gaps when necessary. We boiled the noodles for half of the time given on the box, but will try boiling them almost all the way next time. We let the noodles drain between pieces of parchment on a rack, which worked well.