Roast Chicken with Potatoes and Olives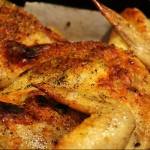 Ingredients
1 bay leaf crushed
1 tsp. fennel seeds (or rosemary)
½ tsp. crushed red pepper flakes
1½ lbs. fingerling potatoes halved
½ cup Kalamata olives pitted
4 Tbl. olive oil divided
kosher salt
freshly ground pepper
4 chicken legs, thigh and drumstick about 3 lbs.
½ cup flat-leaf parsley chopped
1 tsp. lemon zest
Instructions
Preheat oven to 450°F. Pulse bay leaf, fennel seeds, and red pepper flakes in spice mill until finely ground.
Toss potatoes, olives, 2 Tbls. oil, and half of the spice mixture in large bowl; season with salt and pepper.
Place chicken on rimmed baking sheet and rub with remaining 2 Tbl. oil; season with salt and pepper and rub with remaining spice mixture.
Arrange potato mixture around chicken. Roast until potatoes are fork-tender, chicken is cooked through and skin is crisp, 35-45 minutes. Serve chicken and potato mixture topped with parsley, lemon zest, and more red pepper flakes, if desired; spoon pan juices around.