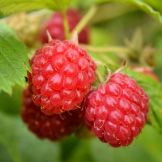 Try on a layered salad of mixed greens, Brie toasts, green beans, raspberries, and sliced grilled chicken.
Ingredients
½ cup fresh raspberries
¼ cup seedless raspberry jam
⅓ cup raspberry wine vinegar
2 tablespoons minced shallots
2 tablespoons extra-virgin olive oil
2 teaspoons chopped fresh tarragon
1 teaspoon Dijon mustard
salt and black pepper to taste
Instructions
Puree raspberries and jam in a food processor; strain through a fine-mesh sieve, discarding seeds. Transfer puree to a bowl.
Whisk in vinegar, shallots, oil, tarragon and Dijon; season with salt and pepper.