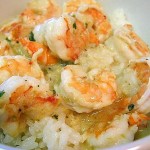 Ingredients
1-2 pounds large shrimp (raw) peeled, deveined, seasoned with salt and pepper
2 tablespoons coconut oil
2 tablespoons scallion whites minced
1 tablespoon garlic minced
1 cup orange juice
1 tablespoon fresh ginger grated
1 tablespoon orange zest
1 cup canned coconut milk
½ teaspoon cornstarch
½ teaspoon red pepper flakes
¼ cup scallion greens thinly sliced
Instructions
Sauté shrimp in 1 tablespoon oil in a sauté pan over medium-high heat until pink and beginning to curl, 2-3 minutes; remove from pan. Heat remaining 1 tablespoon oil in pan. Add scallion whites and garlic; cook 1 minute.
Stir in orange juice, ginger, and zest. Reduce mixture until it measures ½ cup when strained, 3-5 minutes; discard solids. Return juice to pan.
Whisk together coconut milk and cornstarch; stir into juice in pan, add red pepper flakes, and bring to a boil over medium-high heat. Reduce heat to medium and cook sauce until slightly thickened. Season sauce with salt.
Toss shrimp in sauce, stir in scallion greens, and cook 1-2 minutes more. Serve shrimp with cooked rice or rice noodles.