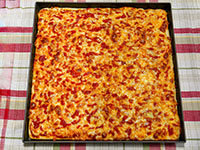 This is our version of a grandma-style pizza. Originally we based it on the recipe from King Arthur Baking. But after some experimentation, we decided that we prefer a crust that uses the same recipe as our Italian bread. We like our crust on the thinner side, so we've proportionally reduced the ingredients in the bread recipe to make the crust. We bake the pizza on rack 2 at 550°F for 6 minutes, turn the temperature down to 400°F and bake for another 5-6 minutes (watch carefully as depending on what cheeses were used, it may brown a bit more quickly sometimes.
Ingredients
Crust
204g hot water
1¼ teaspoons honey
1½ teaspoons active dry yeast
165g all-purpose flour
170g Italian-style flour
1 rounded teaspoon salt
1 tablespoon olive oil
Topping
255g (9oz) shredded cheese(s)
1 heaping cup (250ml) pizza sauce or crushed tomatoes
Instructions
To make the crust: Place yeast in the bowl of a stand mixer. Dissolve the honey in the hot water, and add to the yeast in the bowl.
Combine the flours in a large bowl and whisk to combine.
Add the flour mixture to the liquid in the mixer bowl, and mix gently to combine.
Once the ingredients form a shaggy ball, stop the mixer, unlatch the dough hook and leave it in the mixer bowl. Cover the bowl with plastic wrap and a tea towel, and let the mixture rest for at least 20 minutes.
After the dough has rested, add the salt and oil, and knead about 6-8 minutes to form a smooth, elastic dough. Remove from the stand mixer and knead by hand a few times (20 turns should be fine) on the counter.
Place the dough in a large oiled bowl or dough-rising bucket, cover, and place in the refrigerator for at least 4 hours or up to 24 hours.
To assemble and bake the pizza: Position a rack in the bottom third of the oven and preheat the oven to 550°F.
Add about 2 tablespoons of olive oil to a grandma-style pizza pan and spread it around to coat the pan.
Turn the dough out into the pan, gently deflating it as you stretch it to the edges and corners. If the dough starts to shrink back, cover it with lightly greased plastic wrap, and let it rest for 10 minutes before resuming the stretching.
Cover the dough (I use a large sheet of parchment, clipped to the sides of the pan using binder clips) and allow it to rest for 30 minutes until it has puffed slightly.
Top the crust with the sauce and cheese, spreading it nearly all the way to the edges of the pan, then dollop or spread more sauce over the cheese.
Bake the pizza in the bottom third of the oven at 550°F for 6 minutes; then turn the temperature down to 400°F and bake for another 5-6 minutes.