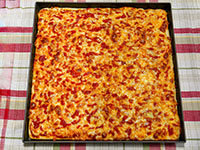 This is our version of a grandma-style pizza, based on the recipe from King Arthur Baking. We like our crust a bit thinner so we've proportionally reduced the ingredients in the crust. For one attempt we tried placing the pan on a preheated pizza stone, but didn't find that it helped much. Next time we will try it without the stone, but with everything else the same: rack 2nd position from bottom of oven, preheat to 550°F but then reduce heat to 400°F after placing the pizza into the oven. This worked well for the cheese at 13 minutes but the crust could have been crispier. May try leaving the temp at 550°F for a minute or two before reducing it. If we still need more leeway with the cheese, we can try briefly freezing the cheese before adding it to the pizza. 11/13/21: today's version was baked at 550°F for 3 minutes, then reduced temperature to 400°F and baked for another 10 minutes. Significant improvement in the browning of the crust. Also moved remaining slices to the cooling rack after slicing to maintain crisp crust. Next time, we may try placing the pizza on the bottom rack (rack 1) instead of rack 2.
Ingredients
Crust
159g Italian-style flour OR 152g all-purpose flour
180g all-purpose flour
scant teaspoon (6g) salt
1½ teaspoons instant yeast
212g water
1½ tablespoons olive oil plus more for the pan
Topping
255g (9oz) shredded cheese(s)
1 heaping cup (250ml) pizza sauce or crushed tomatoes
Instructions
To make the crust: Combine all the ingredients in a large bowl and mix and knead to form a smooth, elastic dough.
Place the dough in a large bowl or dough-rising bucket, cover with plastic wrap, and place in the refrigerator for at least 4 hours or up to 24 hours.
To assemble and bake the pizza: Position a rack in the bottom third of the oven and preheat the oven to 550°F.
Add about 2 tablespoons of olive oil to a grandma-style pizza pan and spread it around to coat the pan.
Turn the dough out into the pan, gently deflating it as you stretch it to the edges and corners. If the dough starts to shrink back, cover it with lightly greased plastic wrap, and let it rest for 10 minutes before resuming the stretching.
Cover the dough and allow it to rest for 30 minutes until it has puffed slightly.
Top the crust with the sauce and cheese, spreading it all the way to the edges of the pan, then dollop or spread more sauce over the cheese.
Bake the pizza in the bottom third of the oven for 12 to 15 minutes (ours took 13), until the cheese is bubbly and the crust is golden.