Italian Bread in Clay Baker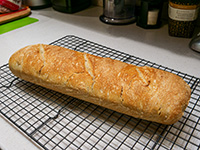 Recipe for Superstone long clay baker, taken from Sassafras Store.
Ingredients
1⅔ teaspoon active dry yeast
1 cup hot water
1½ teaspoons honey
3-3½ cups (390-455g) all-purpose flour, OR use half all-purpose and half Italian-style flour for a lighter loaf (I've also tried substituting 75g of French-style flour for 75g of the all-purpose flour)
1¼ teaspoons salt
1 tablespoon dry milk powder optional
1 tablespoon olive oil optional
Instructions
Dissolve honey in hot water, and mix with yeast in a large bowl, or the bowl of a stand mixer.
Mix flour with dry milk, if using and slowly add to the yeast mixture until you have a stiff dough (usually the 390 grams is plenty for me). Allow dough to rest for 10-20 minutes.
Mix in the salt and the tablespoon of olive oil, if using. Knead for 6-8 minutes in a stand mixer.
Place dough in a greased bowl, cover, and allow to rise in a warm, draft free place for about 2 hours, or until doubled in bulk.
Punch down the dough. Form a long loaf to fit inside the long clay baker, and insert the loaf into the baker.
Cover and allow the loaf to rise for about 1 hour. Preheat oven to 400°F.
With a sharp knife, cut 2 or 3 slashes in the top of the loaf. Brush the top of the loaf with cold water, cover the baker with the lid, and bake at 400°F for 30-40 minutes, removing the lid for the final 10 minutes until the loaf is golden brown in color. (I bake mine about 25 minutes with the lid on, and then about 10 with it off.)
Notes
3/1/2022: I tried this bread with an overnight rise. Yesterday around noon I made the dough using cold water, and refrigerated it immediately. This morning I took it out around 8:00am and let it warm until 8:30. Folder 3-4 times and patted it out into a round, and let it rest for 20-30 minutes. Then formed into a loaf and placed in clay baker. Let rise for 2 hours (after 45 minutes and little activity, I put it into the oven with the light on for additional warmth). Baked as usual, after rising for 2 hours. Next time may try bringing the dough out at 3:30-4:00am to let it warm and rest longer before shaping.