Blueberry Buttercream Frosting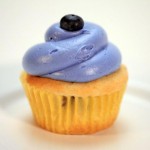 Sounds like a great topping for Lemon Cupcakes!
Ingredients
1 cup unsalted butter softened
¼ cup blueberry puree
2-3 tablespoons blueberry juice from puree
1 teaspoon vanilla extract
1 tablespoon lemon zest
pinch salt
5-6 cups powdered sugar
Instructions
With a mixer, cream the butter on medium speed until smooth.
Add blueberry puree, blueberry juice, vanilla, lemon zest and salt, and mix on medium-low until well-combined.
Gradually add in the powdered sugar, beating on low speed until combined. Then beat for 3-5 minutes on medium-high speed until light and fluffy.