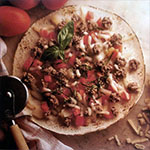 I've thought about these (my mother used to call them Mexican Pizzas) a few times over the past few years, but I couldn't remember what cookbook of pamphlet they were in. My father finally found the recipe today and sent me a photo of it. These were always a favorite when I was growing up in the 1980s.
Ingredients
1 pound lean ground beef
1 medium onion chopped
1 teaspoon dried oregano leaves
1 teaspoon salt
4 10-inch flour tortillas
1 medium tomato seeded and chopped
1 tablespoon thinly sliced fresh basil leaves
1 cup shredded mozzarella cheese
¼ cup grated Parmesan cheese
Instructions
Heat oven to 400°F.
Brown ground beef and onion in skillet over medium heat for 8 to 10 minutes or until beef is no longer pink. Pour of drippings.
Stir oregano and salt into beef.
Lightly brush tortillas with oil. Bake tortillas on 2 large baking sheets in 400°F oven for 3 minutes.
Spoon beef mixture evenly over the top of each tortilla; top with an equal amount of tomato. Sprinkle with basil and cheeses.
Return to oven and bake 12-14 minutes or until tortillas are lightly browned.