The Mooses' Slow Cooker Beef Bourguignon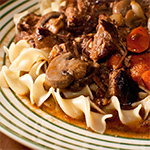 Ingredients
¼ cup all-purpose flour
1 teaspoon salt
½ teaspoon ground black pepper
2 lbs. cubed beef stew meat
Drippings from 6 slices fried bacon
3 garlic cloves minced
1 lb. raw sliced white mushrooms
1 14.4-oz. bag Birds Eye frozen white pearl onions
6 large carrots peeled and sliced into ½ inch pieces
2 cups dry red wine
¼ cup bourbon or brandy
1 cup beef broth
3 bay leaves
1 tablespoon dried parsley flakes
1 teaspoon dried thyme
2 tablespoons Wondra flour
Instructions
In a large bowl (or Zip-Loc plastic storage bag), combine the flour, salt and ground black pepper.
Coat the beef cubes thoroughly with this mixture.
Fry bacon slices in a large skillet over medium heat until brown, remove bacon, and set aside 1 tablespoon of the drippings for the carrots.
Add the meat to the remaining drippings and brown well on all sides. Transfer meat to the slow cooker.
Sauté the carrots lightly in the reserved bacon drippings for 3 to 4 minutes. Transfer to the slow cooker.
Add the garlic, mushrooms, red wine, beef broth, bourbon, bay leaves, parsley and thyme to the slow cooker.
Stir once and then cover with slow cooker lid.
Cook on low for 6-8 hours until beef is tender. (6 to 6½ hours seems to work well.)
Mix Wondra Flour with 4 tablespoons cold water
Turn slow cooker up to high. Stir in flour mixture one tablespoon at a time until sauce begins to thicken.
Add the frozen pearl onions. Stir gently to combine.
Continue to cook for an additional 5-8 minutes on high, until the onions are thoroughly heated. Turn off heat and serve.
(Optional) Garnish with parsley and crumbled bacon.
Serve with crusty French bread.