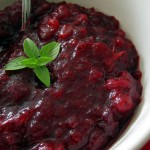 Ingredients
1 12 ounce bag cranberries
6 ounces frozen apple juice concentrate
2 teaspoons fresh basil roughly chopped
Instructions
Combine the apple juice concentrate and cranberries in a pot and turn the stove on medium-high heat.
When the mixture begins to boil, turn the heat down slightly and add the basil.
Stir frequently as the cranberries begin to pop and the mixture reduces. After about 5 minutes, turn the heat to low and simmer until a thick, sauce-like consistency has formed.