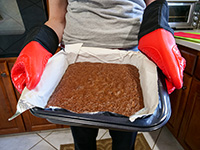 This is based on a recipe for Whole Grain Brownies from King Arthur Flour. I halved the recipe (the halved quantities are what are listed here). I bake them in an 8"x8"x2" pan lined with Reynolds pan lining paper.
Ingredients
113g (½ cup) unsalted butter
213g light brown sugar
32g cocoa (I used Burgundy Cocoa from King Arthur Flour)
½ teaspoon salt
¼-½ teaspoon baking powder
½ teaspoon espresso powder optional
1½ teaspoons vanilla extract
2 eggs
85g white whole wheat flour
145g (1 cup) chopped walnuts
Instructions
Preheat oven to 350°F.
Melt butter, then add sugar and stir to combine.
Return to microwave, heat to 110°F-120°F (hot but not bubbling).
Transfer to bowl, stir in cocoa, salt, baking powder, and vanilla.
Add eggs, stirring until smooth.
Add flour and nuts, stirring until smooth.
Spoon batter into prepared 8"x8"x2" pan and bake for 25-30 minutes (mine were perfect at 26 minutes one time, 29 minutes the next, 25 minutes the next). Remove from oven and cool completely on a rack.