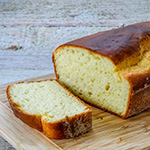 Ingredients
250 grams all-purpose flour divided
25 grams sugar
5 grams table salt
3.5 grams (½ packet) active dry yeast
¾ cup milk
4 tablespoons unsalted butter
1 egg plus 1 egg yolk
Instructions
Add about ¾ cup flour, sugar, salt and yeast to a mixing bowl. Stir to combine.
Melt the butter in the milk while heating the mixture to 105°-110°F.
Pour the milk and butter mixture onto the dry ingredients in the mixing bowl.
Beat with stand mixer for two minutes (or stir vigorously for three minutes, if mixing by hand).
Add the egg and yolk and another ½ cup of the flour. Beat for two minutes, or for three minutes if mixing by hand.
Add the rest of the flour and beat until smooth.
Scrape down the bowl, cover with plastic wrap and let rise until doubled, about 1 hour.
Meanwhile, butter and flour a 9"x5"x3" loaf pan.
After the first rise, scrape the batter into the pan, cover with plastic wrap and let rise another 30 minutes.
Fifteen minutes before baking, begin heating the oven to 375°F.
When ready bake the bread for about 35 minutes (34 is perfect for our taste), covering the top with foil when it reaches the desired golden-brown color.
Remove from oven and let rest in pan on cooling rack 5 minutes before turning out. Cool completely on rack.