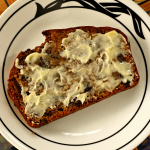 Serve with cock-a-leekie soup! Or for breakfast or dessert.
Ingredients
235g (1½ cups) diced prunes
1 cup boiling water
1 teaspoon baking soda
1⅔ cups (217g) all-purpose flour
½ teaspoon table salt
½ teaspoon baking powder
½ teaspoon ground nutmeg or cinnamon
195g (1 cup) packed brown sugar
2 eggs beaten
¼ cup canola or light olive oil
1 teaspoon pure vanilla extract
100g (1 cup) chopped walnuts
Instructions
Preheat oven to 350°F with rack in center position. Coat a 9x5-inch loaf pan with nonstick spray.
Soak prunes in boiling water with baking soda, 15 minutes.
Whisk together flour, salt, baking powder, and nutmeg or cinnamon. Whisk together brown sugar, eggs, oil, and vanilla in a large bowl; stir in plum mixture, walnuts, and flour mixture until blended.
Pour batter into prepared pan; bake until toothpick inserted into the center comes out clean, 55-65 minutes. Cool bread in pan on a rack 5-10 minutes before removing.
Notes
5/10/22: I made this bread in the tea loaf pan from King Arthur Baking. First, I toasted the chopped walnuts for about 10 minutes at 350°F. Then turned the oven down to 325°F for the bread. Added ¼ teaspoon cardamom and ⅛ teaspoon cinnamon. Baked for 52 minutes at 325°F on rack 2.