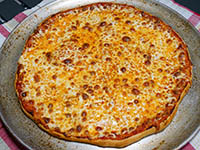 The best thin crust pizza!
Ingredients
275g lukewarm water
6g yeast
7g sugar
12g salt
15g olive oil
410g King Arthur Baking Pizza Flour (+5-10g for hand kneading)
Toppings
6½-7 ounces grated cheeses (we use a variety in our mix, including mozzarella, Cooper CV Sharp, Monterey Jack, fontina, Bongard American, and gruyere)
Heavy half-cup pizza sauce (our favorite at this time is a half and half mix of DeLallo pizzeria style and DeLallo margherita style, plus about ¼ teaspoon of Italian seasoning)
Instructions
Combine yeast, sugar, and salt in the bowl of a stand mixer, add water, and whisk to combine.
Add olive oil and whisk.
Add 410g flour and knead with stand mixer 8-10 minutes. Dough will be quite wet and sticky. Remove from mixer, divide in two, and hand-knead each half for a few turns, using some of the extra flour, until dough loses some of its stickiness.
Place each half in a bowl or container, cover, and let rise at room temperature for 1-2 hours. Refrigerate until ready to make pizza.
About 30 minutes prior to baking, place the pizza stone in the oven and begin preheating the oven to 550°F. About 25 minutes after turning on the oven, remove one of the dough balls and place on floured parchment. Roll out to 13"-14" circle, resting as needed for the dough to cooperate. Top and slide onto pizza stone, immediately reduce temperature to 400°F, and bake for 10 minutes. Wetter toppings such as shrimp or spinach may require another 1-2 minutes of baking time.
Notes
20 Feb. 2022: Today we made a white pizza with shrimps. We topped the crust with extra-virgin olive oil; a mix of mozzarella, Monterey Jack, gruyere, and American cheeses; Italian seasoning and black pepper; and 12 21/25-count shrimp (cut into thirds).
16 Jul. 2022: Today we made this pizza with an unusual mixture of cheeses, which I liked but Rich didn't care for (Colby-Jack, yellow Cooper, and Clearfield white American). When using a cheese mix that is all or predominantly American-style processed cheese, we have been heating the oven and stone to 450°F, rather than 550°F. Sometimes we turn the oven off when we put the pizza in, and sometimes we leave it on. Bake time is similar, close to 10 minutes. Just watch carefully because some American cheeses brown suddenly and can quickly overbrown.