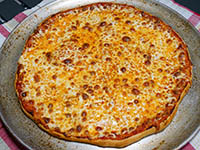 INGREDIENTS
275g lukewarm water
6g yeast
7g sugar
11g salt
15g olive oil
410g King Arthur Baking Pizza Flour (+5-10g for hand kneading)
INSTRUCTIONS
Combine yeast, sugar, and salt in the bowl of a stand mixer, add water, and whisk to combine.
Add olive oil and whisk.
Add 410g flour and knead with stand mixer 8-10 minutes. Dough will be quite wet and sticky. Remove from mixer, divide in two, and hand-knead each half for a few turns, using some of the extra flour, until dough loses some of its stickiness.
Place each half in a bowl or container, cover, and let rise at room temperature for 1-2 hours. Refrigerate until ready to make pizza.
When ready to bake, preheat oven with pizza stone to 550°F. Remove one of the dough balls and place on floured parchment. Roll out to 13"-14" circle, resting as needed for the dough to cooperate. Top and slide onto pizza stone, immediately reduce temperature to 400°F, and bake for 10-12 minutes.