Pineapple Upside-Down Cake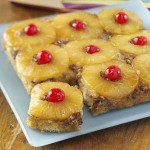 Ingredients
⅓ cup butter melted
½ cup brown sugar packed
1 20-ounce can sliced pineapple
½ cup chopped pecans
3 eggs separated
1 cup sugar
1 teaspoon vanilla extract
1 cup all-purpose flour
1 teaspoon baking powder
¼ teaspoon salt
Instructions
Preheat oven to 375°F. In an ungreased 9 inch square baking pan, combine butter and brown sugar, sprinkling sugar over melted butter. 2. Drain pineapple, reserving ⅓ cup juice. Arrange 9 pineapple slices in a single layer over sugar (refrigerate any remaining slices for another use). Put a cherry in the center of each pineapple ring. Sprinkle pecans over pineapple; set aside.
In a small bowl with clean beaters, beat egg whites on high speed until stiff peaks form.
In a large bowl, beat egg yolks until thick and lemon-colored. Gradually add sugar, beating well. Blend in vanilla and reserved pineapple juice. Combine flour, baking powder and salt; add to batter, beating well.
Fold egg whites into batter. Spoon into pan.
Bake 30-35 minutes or until a toothpick inserted in center comes out clean. Let stand 10 minutes before inverting onto serving plate.