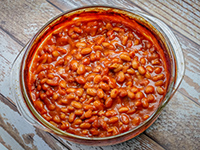 Ingredients
One large can (40 ounce) or 3 15.5-ounce cans Great Northern beans
½ cup ketchup
1 15 ounce can diced tomatoes pulsed a few times in food processor
3 strips of bacon cut up, brown in skillet, drain grease
3 tablespoons chopped onions
⅓ cup packed brown sugar
1 tablespoon molasses
2 teaspoons dry mustard
black pepper to taste
Instructions
I use the 2 quart Pyrex baking dish. Add water to come nearly to the top. Cover and bake in 275°F oven until thick, stirring every hour or so. The time is trial and error as is the taste. Other than the ketchup, I don't measure anything. You can bake them for a while one day then finish the next. They also freeze well.
We've been using three 15.5 ounce cans of beans, plus about 8 ounces of tomato sauce. Don't drain the beans, just add the whole can with liquid. Use dark brown sugar, or light brown with an added teaspoon of molasses. We bake uncovered for about 6-6½ hours at 275°F. We don't add any extra water, except during the last hour; at that time ¼ cup of water might be needed, and then cover to finish cooking.
Notes
7/29/22: We have been baking the beans uncovered for 4.5 hours. We don't add any water; the liquid from the beans (which we don't drain), tomatoes, and ketchup seems to be enough.