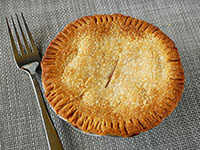 We baked these for 25 minutes (they were bubbling nicely), then turned off the oven and left them in there for another 3 minutes or so. We also moved the oven rack up one notch from where I usually have it, and placed a piece of foil on the rack underneath to catch drips.
Ingredients
1 15-ounce can fruit pie filling
1 prepared pie crust, enough for a 2-crust 9-inch pie
Instructions
Preheat oven to 400°F.
Cut rounds to fit the mini (5-inch) pie pans. We were able to get three bottom and full top crusts.
Fill with pie filling, cover with top crust and seal. Cut a slit or decoration in the top to vent.
If desired, brush top crust lightly with water and sprinkle with 1-2 teaspoons of raw sugar. We like this on cherry, peach, and blueberry pies.
Bake 20-25 minutes (around 22 minutes usually works well for me).