Mimi's Perfection Fruitcake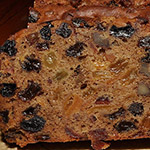 Gwynne writes: "There are numerous jokes about fruitcake … this will change anyone's mind! It is absolutely wonderful and was always a gift from grandma. It always arrived cold from the attic and in a shoe box!" The full recipe makes two fruitcakes; I usually halve the quantities and make one.
Ingredients
4 ounces lemon peel
4 ounces orange peel
4 ounces citron
4 ounces pineapple
8 ounces candied cherries
8 ounces dark raisins
8 ounces light raisins
1 cup chopped walnuts
1 cup chopped pecans
¼ cup flour
1 cup shortening or butter
2 cups brown sugar
4 eggs
2¾ cups flour
1 teaspoon baking powder
1 teaspoon salt
1 teaspoon allspice
1 teaspoon cinnamon
½ teaspoon nutmeg
½ teaspoon cloves
¾ cup grape juice
Instructions
Finely chop and mix together the peels, raisins and nuts. Sprinkle with the ¼ cup flour and mix very thoroughly.
Cream shortening or butter (I use butter) and sugar. Add eggs and beat well. Sift together 2¾ cups flour, baking powder, salt and spices. Add alternately with the grape juice.
Pour batter over the fruits and mix well. Spoon into greased loaf pans (2 glass pans, 9" x 5" x 3.5") with a wax paper or parchment layer covering the bottom of the pans, filling about ¾ full. Smooth top but don't flatten.
Bake in 250°F oven for 3-4 hours (I bake them for 3 hours, 40 minutes). Cool completely, then remove from pan. Brush with whiskey, add apple slices on top, wrap tightly in waxed paper and foil and store in cool dark place.
Notes
Substituting candied mixed peel for the lemon peel, orange peel, and citron works well and is much easier than trying to purchase the peels separately.
I like to use the "Raisin Medley" from Nuts.com in place of the dark and golden raisins.
I use dark brown sugar, and always use butter rather than shortening.
Cherry juice instead of grape juice also works well.