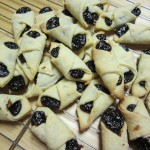 Rich's favorite cookies! Can be stored frozen; allow to thaw for 15 minutes before serving.
Ingredients
1½ pounds lekvar
1 cup butter
2 teaspoons baking powder
1 large cake yeast
pinch salt
1 pint sour cream
6 egg yolks
2½ cups Spry or shortening
7 cups flour
Instructions
Beat egg yolks, yeast, butter and shortening together, then add sour cream. Dump in the flour and mix well. Let stand in the refrigerator overnight.
Next day roll out small portions at a time about ⅛-inch thick, and cut into small pieces about 2 inches square.
Fill each with about ½ teaspoon of lekvar (more or less to your preference) and roll the dough just enough to overlap the ends. Roll lightly in sugar. Close ends gently with a fork.
Place on cookie sheet and bake at 350°F to 400°F for 12 to 15 minutes, or until golden brown.