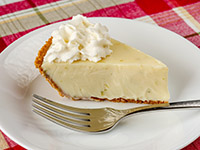 Authentic, tart & sweet, delicious! I use the zest of one lime (without measuring; it's usually just over 1 tablespoon), then juice that lime and add to it enough key lime juice to make the ¾ cup. Do not attempt to cover with foil or plastic wrap for chilling! Save the plastic lid from the pie crust, and cover the pie with it for chilling.
Ingredients
1 9-inch prepared graham cracker crust
2 14-oz. cans sweetened condensed milk
½ cup sour cream
¾ cup key lime juice bottled is fine; Nellie & Joe's is easy to find
1 tablespoon lime zest
Instructions
Preheat oven to 350°F.
In a medium bowl, combine condensed milk, sour cream, lime juice, and lime rind. Mix well and pour into graham cracker crust.
Bake in preheated oven for about 10 minutes, until tiny pinhole bubbles burst on the surface of pie. Do not brown! Chill pie thoroughly before serving. Garnish with lime slices and whipped cream if desired.