Grandma's Molasses Cookies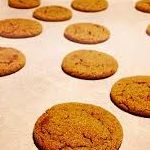 Ingredients
3½ cups flour
3 teaspoons baking soda
½ teaspoon cinnamon
½ teaspoon allspice
½ teaspoon salt
1 egg
1 stick butter
⅔ cup sugar
1 cup molasses
¼ cup cold water
½ cup vinegar
1 cup nuts optional
Instructions
Sift together flour, baking soda, spices and salt.
Beat together the egg, butter, sugar, and molasses.
Add 1 cup of the flour mixture to the wet ingredients; combine.
Add cold water and vinegar and mix.
Add remaining dry ingredients. Mix well. Form into balls and place on baking sheet.
Bake at 375°F for 12-15 minutes.