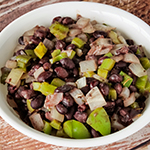 Serve with Crock-Pot Mojo Pork.
Ingredients
1 tablespoon extra-virgin olive oil
½ onion chopped
½ green pepper chopped
2 cloves garlic minced
salt and pepper
½ teaspoon dried oregano
15 ounce can black beans drained and rinsed
¼ cup chicken broth
1 teaspoon red wine vinegar
Instructions
Heat oil in a large skillet over medium heat.
Add bell pepper and onion, season with salt and pepper, and then sauté until vegetables are tender, 5-7 minutes.
Add garlic then sauté for one more minute.
Add dried oregano, black beans, chicken broth, and vinegar, then simmer until most of the broth has been absorbed and beans are tender. Taste then add salt and pepper if necessary.