Cornbread or Corn Muffins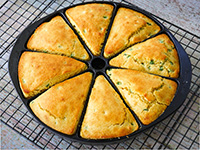 Baked in a scone pan, these come out perfectly portioned and golden brown in 15 minutes.
Ingredients
1 cup (~154 g) corn meal we prefer Indian Head yellow
1 cup (130 g) all-purpose flour
¼ cup sugar
1 teaspoon salt
3 teaspoons baking powder
¼ cup extra-light olive oil
1 cup milk
1 egg beaten
heaping ⅓ cup chopped jalapeño peppers optional
Instructions
Preheat oven to 425°F.
Combine corn meal, flour, sugar, baking powder, and salt in a bowl.
Mix oil, egg and milk together, and add to dry ingredients, mixing just until combined.
Bake in a greased 9" x 9" x 2" pan for 20-25 minutes for cornbread, 14-15 minutes for muffins.