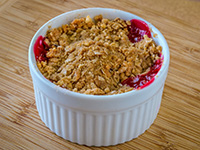 Fantastic with blueberries, plums, red raspberries, or peaches! (Or any combination thereof!) This recipe makes two crisps, so just double or triple as necessary.
Ingredients
Filling
1¼ - 1½ cup fresh blueberries
2 teaspoons cornstarch
1 teaspoon white sugar
Topping
2 tablespoons all-purpose flour
2 tablespoons quick oats
2 tablespoons light brown sugar
2 tablespoons finely chopped walnuts optional
¼ teaspoon cinnamon
1½ - 2 tablespoons cold butter cut into small cubes
Instructions
Preheat oven to 350°F.
In a small bowl, toss together the blueberries with the cornstarch and sugar until well coated. Fill two small (1 cup) ramekins with the blueberries and set aside on rimmed, foil-lined baking sheet.
In another small bowl, combine the flour, oats, brown sugar, walnuts, and cinnamon. Cut in the butter and use your hands to work it all together, working the butter into the dry ingredients until the mixture is crumbly.
Sprinkle the crumble mixture over the berries and bake for 25-30 minutes, or until the berries are bubbly and the topping is golden.