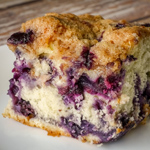 Ingredients
Cake
2 cups all-purpose flour sifted
2 teaspoons baking powder
½ teaspoon salt
¼ cup unsalted butter softened
¾ cup sugar
1 egg
½ cup milk
2 cups fresh blueberries
Topping
½ cup sugar
⅓ cup all-purpose flour sifted
¼ cup butter softened
½ teaspoon ground cinnamon
Instructions
Preheat oven to 375°F. Butter 8"x8" baking pan. Sift together flour, baking powder, and salt.
Cream butter and sugar in medium bowl until light in color and fluffy, 3-5 minutes. Add egg and beat well. Gradually add flour mixture alternately with milk, mixing well after each addition. Fold in berries. Pour evenly into pan.
Combine all topping ingredients with fork and blend well. Sprinkle over batter. Bake until lightly golden, 35 to 40 minutes.