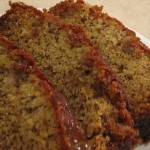 Ingredients
½ cup butter softened
1 cup sugar
2 eggs
1½ cups banana mashed
4 ounces chopped nuts optional
2 cups all-purpose flour
1 teaspoon baking soda
½ teaspoon vanilla extract
Instructions
Preheat oven to 350°F. Grease and flour one 9x5-inch loaf pan.
Cream butter and sugar until smooth. Beat in eggs, then bananas and vanilla. Add nuts if desired. Add flour and soda, stirring just until combined.
Pour into prepared pan and bake at 350°F for about 50-60 minutes (or till toothpick comes out clean - test early). Remove from pan and let cool, store in refrigerator or freeze.