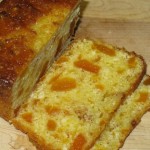 Ingredients
1 cup boiling water
2 cups (260 grams) dried apricots chopped
3 tablespoons (42 grams) unsalted butter
½ cup (113 grams/4 ounces) cream cheese softened
1 cup white sugar
2 eggs
2 cups (260 grams) all-purpose flour
2 teaspoons baking powder
½ teaspoon baking soda
½ teaspoon salt
Instructions
Preheat oven to 350°F. Grease one 9x5x3-inch loaf pan.
Pour boiling water over apricot pieces in a small bowl. Cool.
In another bowl, combine flour, baking powder, soda, and salt.
In a large bowl, cream butter, cream cheese, and sugar.
Beat in eggs, one at a time, until smooth.
Stir in cooled apricots and water.
Pour in flour mixture, and stir until moistened. Turn batter into greased 9x5x3-inch loaf pan.
Bake at 350°F for 55-65 minutes (mine takes 50-55), or until it tests done. Let stand 10 minutes. Remove from pan to rack. Cool.
Notes
3/28/2022: This was my first time baking this loaf in the Tea Loaf Pan from King Arthur Baking. The pan is ceramic and measures 12" x 4" x 2½", giving it the same capacity as a 9" x 5" loaf pan. Recommendations were to reduce the oven temperature by 25°F and to check early because baking time will be less than for the same 9" x 5" loaf. I cut a piece of parchment to fit the bottom of the pan, and buttered the pan. I baked the loaf at 325°F for 50 minutes, until it reached an internal temperature of around 200°F. I used an offset spatula to release the bread from the sides of the pan, and then let it cool in the pan on a wire rack for about 10 minutes before turning it out onto the rack.