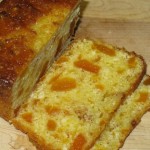 INGREDIENTS
1 cup boiling water
2 cups dried apricots chopped
3 tablespoons unsalted butter
½ cup cream cheese softened
1 cup white sugar
2 eggs
2 cups all-purpose flour
2 teaspoons baking powder
½ teaspoon baking soda
½ teaspoon salt
INSTRUCTIONS
Preheat oven to 350°F. Grease one 9x5x3-inch loaf pan.
Pour boiling water over apricot pieces in a small bowl. Cool.
In another bowl, combine flour, baking powder, soda, and salt.
In a large bowl, cream butter, cream cheese, and sugar.
Beat in eggs, one at a time, until smooth.
Stir in cooled apricots and water.
Pour in flour mixture, and stir until moistened. Turn batter into greased 9x5x3-inch loaf pan.
Bake at 350°F for 55-65 minutes, or until it tests done. Let stand 10 minutes. Remove from pan to rack. Cool.